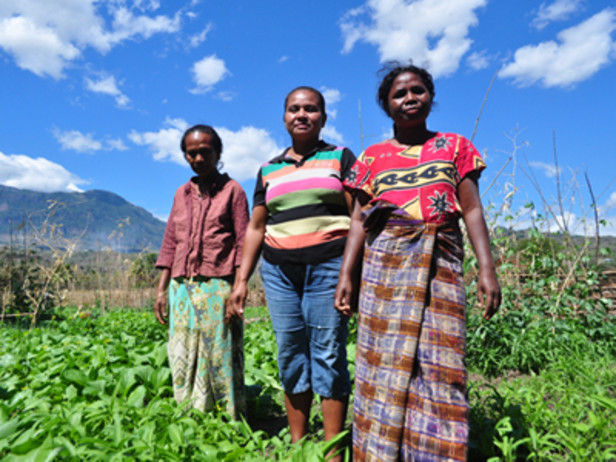 This meeting was held to discuss women's land rights, particularly in reference to the Agenda 2030 goals.
Mrs. Mucavi served as chair, asking "why do we need to care about women and land in the context of the Agenda goals?" She observed how men are often seen as the main source of food security and income, but this does not and should not hold true. Additionally, she noted that land is in fact an asset for individuals — one that can be rented or even sold when faced with economic hardship.
Mr. Stloukal pointed out the true indicators of the outcomes of process and legal changes should be seen as complementing one another, and they help us set priorities on women and access to land, as well as oblige countries to improve the land rights of women. He noted some difficulties, but in general national household and agricultural surveys have worked.
Ms. Pandolfelli pointed out the EDGE Objectives. EDGE stands for evidence and data for gender equality, and the objective of edge is to develop internationally comparable gender indications on factors such as health, entrepreneurship, and asset ownership. She also talked about how data on a core set of assets, such as land assets, can be extremely useful.
Finally, Ms. Nowacka spoke on the OECD's SIGI-Social Institutions and Gender Index, which was last published in 2014. It has 5 sub-indexes and 21 variables, with 160 countries. She noted how important it is to look specifically for discrimination against women in the law. Finally, she pointed out how whenever women were finally educated on their land rights, they have stood to declare "no, I will not give up my land."
Meeting: United Nations Food and Agriculture Organization (FAO, UN Women, International Food Policy Research Institute (IFPRI) Monitoring Women's Land Rights in the 2030 Agenda
Date/Location: Thursday, March 17, 2016; 13:15-14:30 Conference Room D-GA Building
Speakers: Mrs. Carla Mucavi, Director, FAO Liaison Office New York; Mr. Libor Stloukal, Senior Policy Officer, FAO Headquarters; Ms. Lauren Pandolfelli, UN Statistics Division, UN Women; Ms. Keiko Nowacka, Gender Coordinator, OECD Development Centre
Written By: WIT Representative Olivia Gong
Edited By: WIT Representative Alex Margolick
Photo Credit: Betsy Davis Cosme / UN Women Asia & the Pacific / CC BY-NC-ND